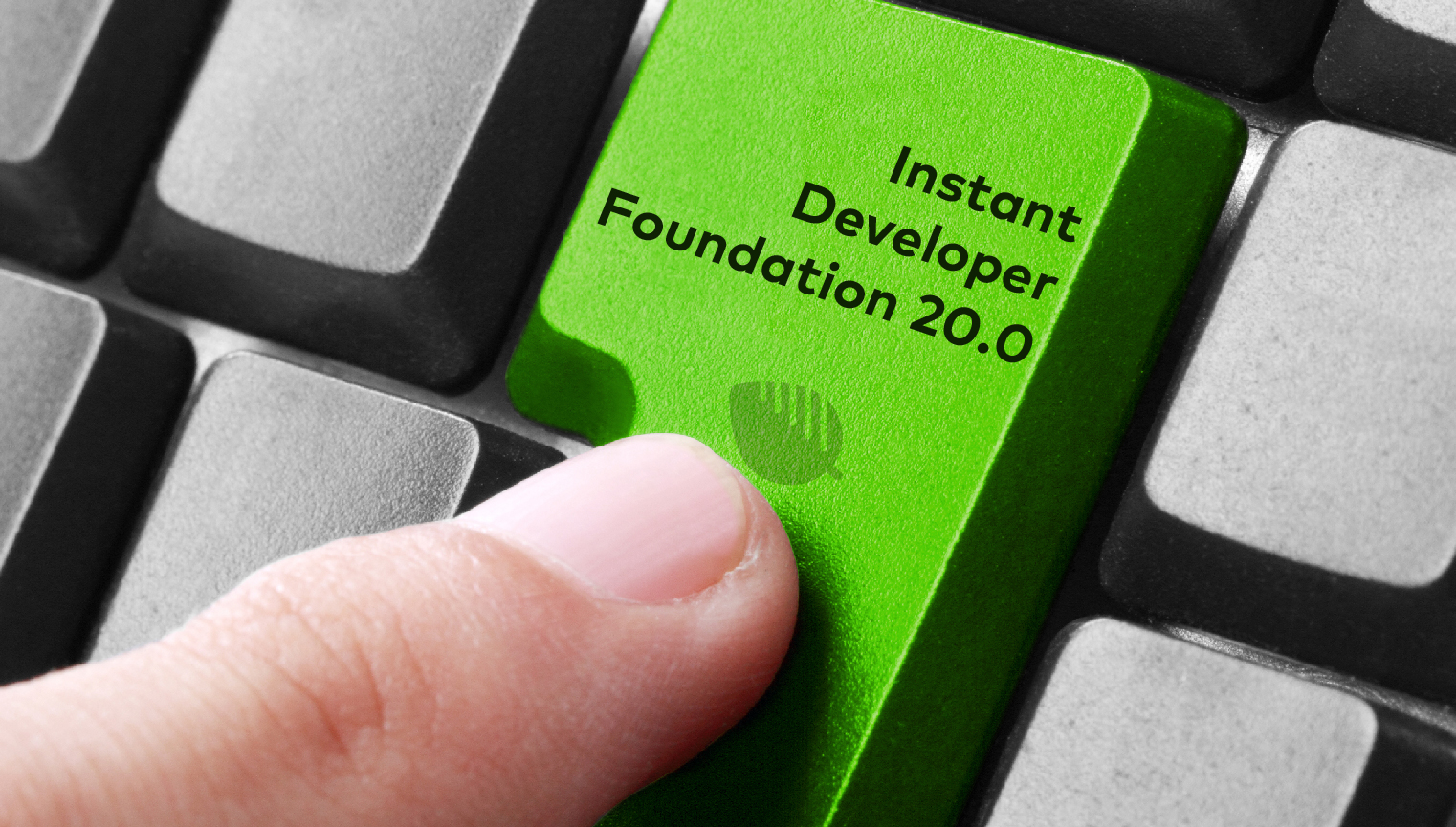 These last few weeks have certainly been out of the ordinary. The Coronavirus emergency has slowly changed habits, beginning with professional habits, forcing many people to work remotely and reorganize the way they operate. But all of this hasn't remotely affected our release plans for version 20.0 of Instant Developer Foundation. In fact, during this time, we have worked harder than ever before, and deepened our commitment to providing our customers all the support they need to get through this time as successfully as possible.
Not only by activating digital solidarity initiatives, but by staying fully up and running so we can provide regular support and update our development platforms.
This is another reason that the new release has taken on a crucial importance: it introduces some significant updates that open the door to a world of opportunities while ensuring simplicity and speed of execution. Because now like never before, we know how important it is to be able to work at maximum efficiency and productivity. What are we talking about? We'll get right to it, jumping straight into the heart of this new version.
What's new in release 20.0 of Instant Developer Foundation
We are always in touch with our customers, so we've developed excellent listening skills and the ability to respond accordingly. That's why many of the new implementations are associated with requests received directly from people who use Instant Developer Foundation every day in their work.
In other cases, the changes are those necessary developments that promptly respond to changes in technology to allow our customers to drastically reduce the costs of maintaining their software. In this version we have made signification changes of this kind, adding important functionalities that weren't in previous versions, and which open new pathways and new possibilities for people who develop using Instant Developer Foundation, allowing them to respond even more effectively to the new challenges posed by the Digital Transformation.
Let's have a look.

Particularly important new features
WKWebView on iOS: The template that Instant Developer Foundation uses to create the iOS package for hybrid applications has been updated. This update is necessary because Apple has decided that beginning July 1, 2020, it will reject all new iOS applications that still use the UIWebView class, a class in the iOS framework needed to display the web part of mobile apps on devices. This required that the template be updated and that the UIWebView class be replaced with the WKWebView class, which is different in both events and function. The update brings interesting new things with it: applications launched on device are 50-80% faster than before, because the new WKWebView class runs the applications after compiling them, while the previous class ran the JavaScript using the interpreter during execution as well. All users need to do is open version 20.0, update the libraries in their project, and regenerate the package for iOS with the new version of Instant Developer Foundation.
Integration of third-party JavaScript graphic components: One of the functionalities our customers requested the most was to be able to integrate JavaScript graphic components (components for creating the user interface in the browser). This operation was complicated because in order to integrate third-party client components, you needed a thorough understanding of the Instant Developer Foundation RD3 framework in order for the graphic component JavaScript to integrate with the framework. In version 20.0 we've made it much easier to integrate any graphic component of this type. To do so, simply create a special wrapper class in JavaScript that adapts the third-party component with a very simple interface that adapts it to the Instant Developer Foundation framework. That means that starting with version 20.0, it's definitely easier to incorporate new graphic components by writing just a few lines of code. We've also prepared two example projects that show how to integrate components developed by others into your own applications. Three new documentation articles (from which you can access the example projects) give step-by-step instructions you can follow through to complete integration.
Improvements and fixes
Over 45 improvements to existing functionalities: More than 45 improvements to pre-existing functionalities have been implemented. These improvements address nearly every module of Instant Developer Foundation, from the IDE to the Document Orientation framework, and from books to panels to the JavaScript framework used by web applications. New data types have been supported on MySQL, and new compiling parameters have been added that allow users to activate new functionalities in new applications only, or also in existing applications, but only if they want to. Most of the improvements were suggested by users through the forum, through CRM, and sometimes even during support sessions on using Instant Developer Foundation.
Over 130 fixes to existing functionalities: More than 130 fixes to existing functionalities have been implemented, especially related to the Bootstrap and Ionic graphic themes. You can start with this documentation article to explore them all.
These updates I've just described are only a few of the ones introduced in the new release. Many more improvements have been made, and to appreciate them all you need to do is update your installation to Instant Developer Foundation 20.0.

We'll see you on the forum to share comments and opinions.

Enjoy, everyone!