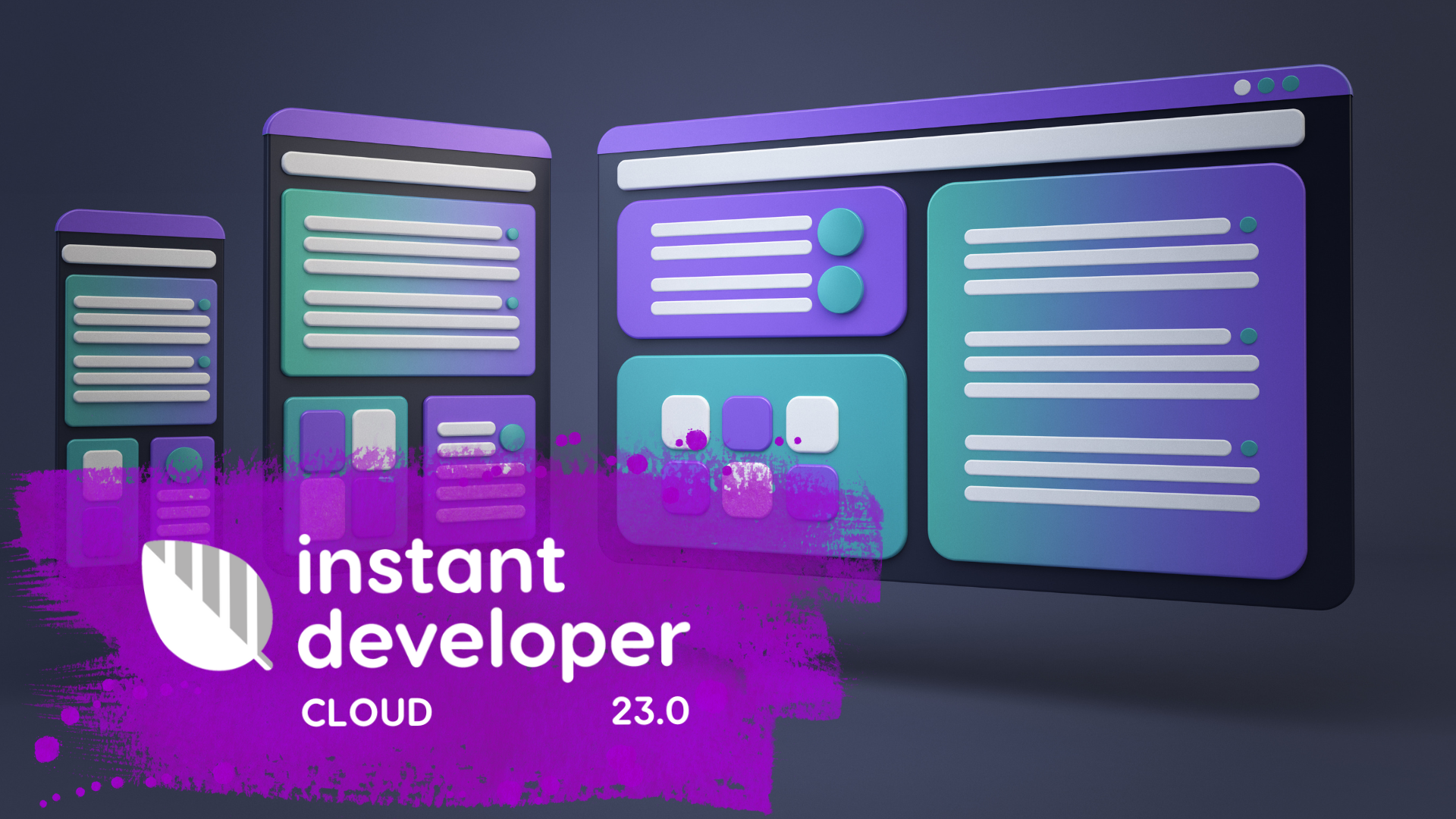 With the release of Instant Developer Cloud 23.0 we've taken a big step forward with our cloud-native software development and distribution platform: the process of developing cloud back office software is now fast and easy.
With the integration of widgets designed precisely for this kind of applications, the Instant Developer Cloud IDE and management console now offer you everything you need, both for developing and for publishing modern back office software for web and mobile.
And to help you hit the ground running, you'll find the complete user manual at your disposal, along with an example to try.
So, in concrete terms, what changes are facilitating this big leap forward?
A release that delivers so much more
Instant Developer Cloud has been known since its initial release (in 2015) as the right platform for developing and distributing applications for digital transformation. That's exactly why it was created.
But in the years since, in addition to working to fulfill the demands of digital transformation, companies that develop software have also affirmed that developing back office software remains a lively, highly performing arena.
In fact, according to the most current data available for the Italian market, software houses working in back office software (a segment that includes more than 133,000 employees) generated a total revenue of 19.9 billion Euro in 2021, a growth of 16% over the previous year. (Source: AssoSoftware)
That is why version 23.0 of Instant Developer Cloud marks a crucial step on the path leading us to a single Instant Developer that will work in two ways (Foundation and Cloud). A step that gives you much more.
In the new release of Instant Developer Cloud, in addition to all the functionalities you've already grown to rely on, you'll also find tools focused on data management, exactly what you need to develop cloud-native back office software, with algorithms designed specifically for managing relationships among data.
And you can create your omnichannel back office software in a modern user interface, on the level of the best UIs achievable with the tools currently available.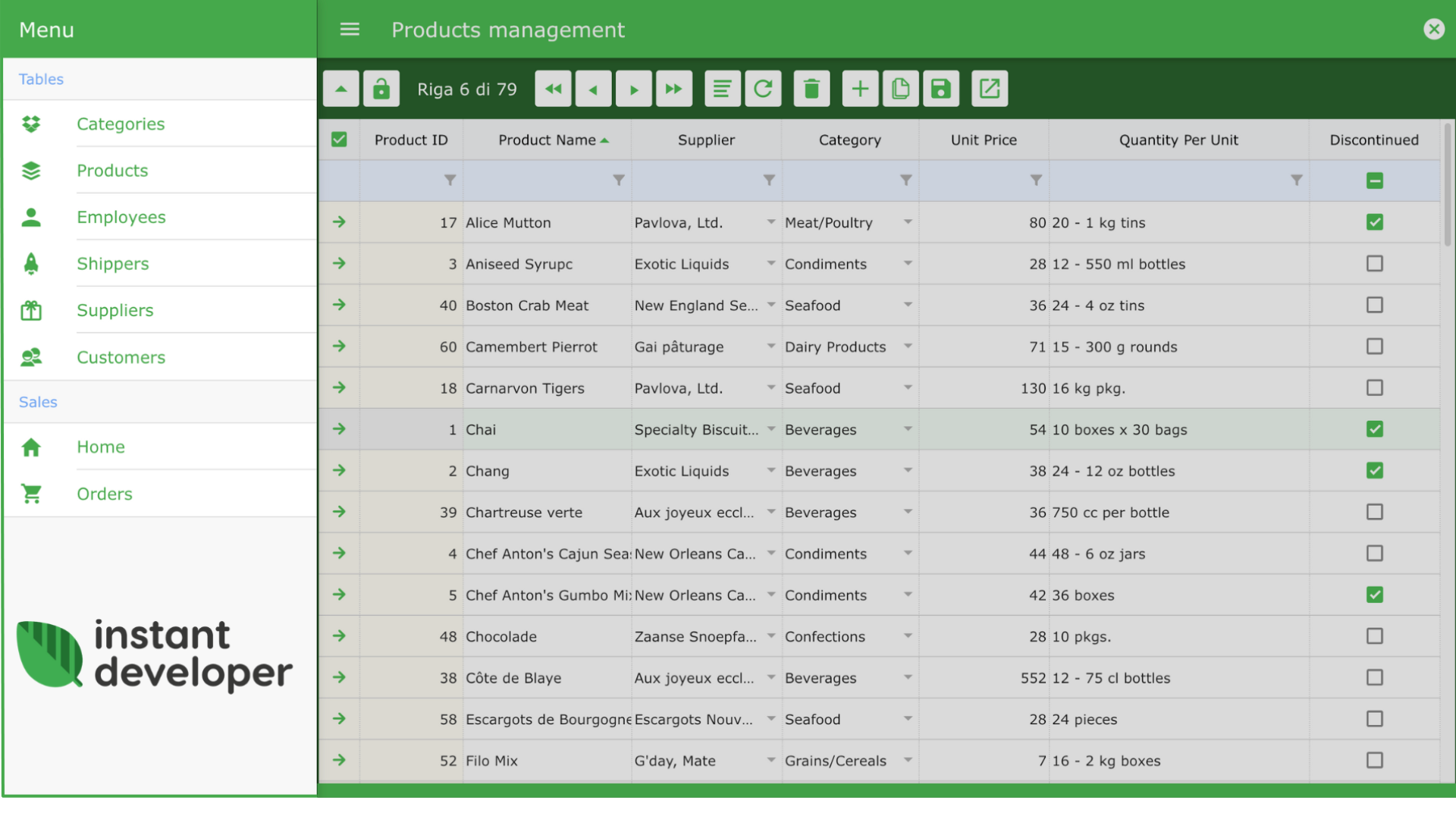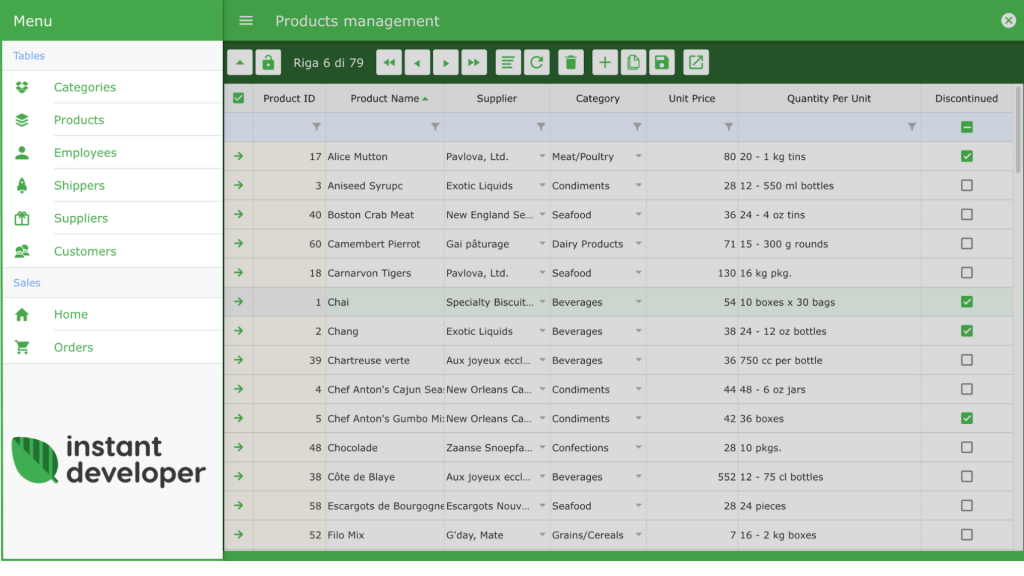 The five advantages of the new Widgets for back office software
Instant Developer Cloud 23.0 offers a new group of widgets (the IdfWidgets) made for the specific purpose of accelerating front-end development dedicated to data management.
But let's look at the advantages for you.
First of all, you can automatically generate in-list grids and detail views very simply. That's an advantage that back office software developers will definitely appreciate, given the enormous savings in terms of time that it guarantees. All of the decode and lookup functionalities are also generated, which are often very complicated to implement.
Another characteristic to mention is that the result produced automatically is fully customizable in the IDE, using drag & drop. So you can drag and drop fields both in list and in detail, and it's all readapted depending on the layout you've chosen.
The third important advantage is that you have available the fastest grid on the web, so you can view and edit datasets, even those on the order of millions of records, in real time in your browser.
Another big innovation is that you can get much more from the usual in-list and detail views. In fact, you can insert custom visual elements in grid and detail cells to include your controls and graphic customizations in your grid.
The new release also offers the ability to compose multiple grids and multiple details in order to very simply create master/detail views or any view or editing functionality for multi-level documents in a completely coordinated way.
Try it now
These are just the most conspicuous benefits. You can test drive them right away to get a fuller picture of which of the powerful new options for developing back office software with Instant Developer Cloud are best suited for your projects.
Watch the example, and if you want to learn more, read the manual!