Success Story
SoftSystem adopts Instant Developer Cloud and conquers the challenge of developing an app for the IoT
SoftSystem put its faith in Instant Developer Cloud when stepping into the world of apps and the Internet of Things, thus equipping itself with new assets for the future.

The Project
Imagine that one of your historic clients, to whom you've provided software for approximately twenty years, asks you to come up with an app that can talk with Google's IoT Core system.
You've got no experience with apps, or with the IoT, and your customer knows this, but they want to launch this new adventure with you, in light of your excellent partnership, rather than go searching for new providers.
In addition, once the app is ready, the idea is to also replicate the project for other brands that they manage.
This is the extremely short version of what happened with SoftSystem in Pordenone (Italy) and its customer Alfa Elettronica.
The challenge was met in a few months, meeting the deadlines set as well as conquering the thousands of questions related to the project, thanks in part to their use of Instant Developer Cloud and our support team.
Vimac Security is an Alfa Elettronica brand. It deals in alarm systems, and given the evolution of this market, it needed to offer its customers the option to use an app to control its security systems remotely.
After an unsatisfactory experience with a software house with expertise in apps, it decided to turn to its trusted provider: SoftSystem. Mario Muzzin, president of SoftSystem, reminded them that this was not their specialty: in thirty years they had developed all kinds of software, but had never worked on an app.
Overall, however, the project promised to be very interesting. For SoftSystem, it could be the chance to take on a new product and new programming logic. The Instant Developer team also reassured him that they'd get all the support they needed. So Mario decided to accept the challenge.
Development Data
110
man/days for full development
5
months before first publication of the app
✓
Integration with Google's IoT Core system
It was a great project, in which our experience was a fruitful collaboration both with Instant Developer and with the client.
Mario Muzzin, President of SoftSystem S.r.l.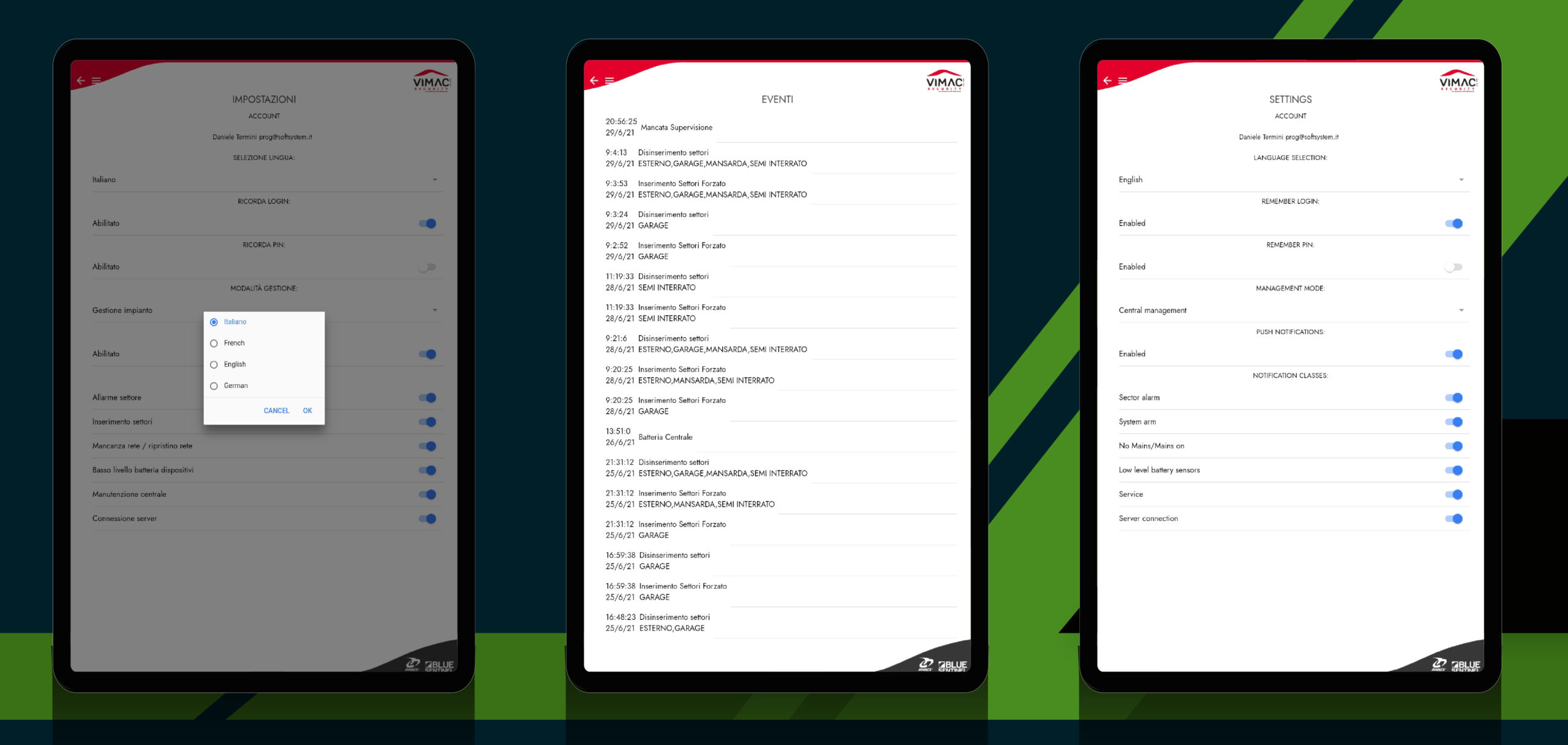 The project was called Leonardo, and was created with a great many unknowns.
SoftSystem found itself dealing with a new development environment, a new product, and new protocols. Indeed, a lot of time was invested into reprogramming the basic utilities and solving many issues arising from inexperience.
However, the use of an omnichannel development platform like Instant Developer Cloud proved to be the ideal choice. Precisely because of how it was conceived, it obligated the SoftSystem programmers to use a logic other than the one they were accustomed to. It became a sort of guide that facilitated the use of better solutions to achieve an optimal result in the logic of developing for mobile.
Thus the various components of the project were developed:
the app itself, rich in functionality for the end user (remote control of alarm status, monitoring of passageways, the option to enable or disable entry points, and much more);
the back office, made of databases that were also developed with Instant Developer Cloud;
Finally, the provisioning portion, meaning the MES system that bridges to Google IoT Core. This portion was instead developed with Instant Developer Foundation.
Overall, the new app was published about 5 months after SoftSystem had begun working concretely (although the project was discussed along general lines much earlier). All in all, this period met expectations, despite initial uncertainties.
Support from the Instant Developer team was incredible. There was also a phase in which for about ten days they connected with us daily for half an hour, or even an hour, until we'd solved a particular problem we'd encountered.
Mario Muzzin, President of SoftSystem S.r.l.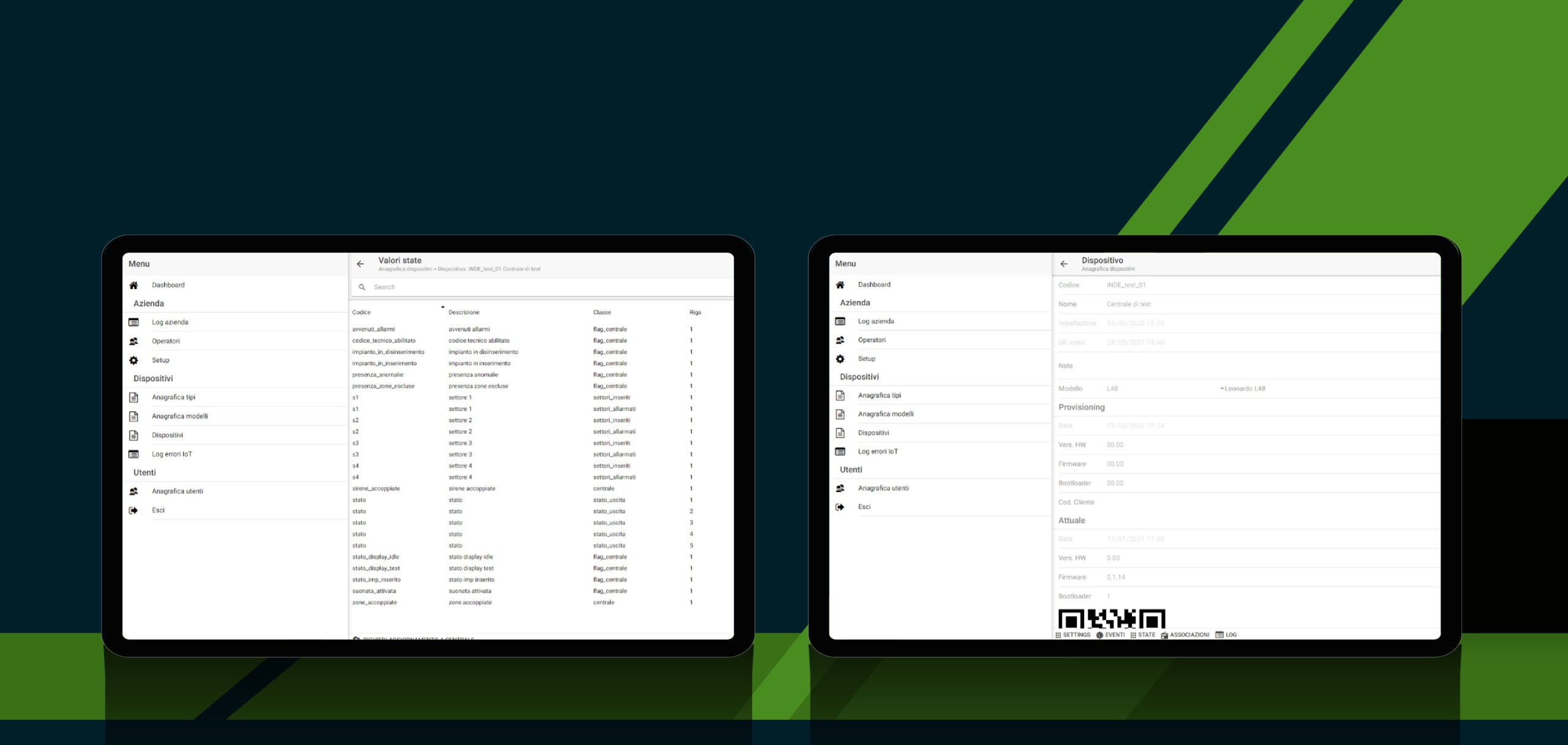 Today the new app is available on Google Play and the Apple App Store for Vimac Security customers who have purchased the top-end products.
The most significant results however, are the experience accrued and the creation of reusable libraries and functionalities. Now in fact, new apps for controlling devices remotely are being studied, conceived for other divisions of Alfa Elettronica (such as controlling industrial thermostats for example).
In fact, considering:
–      the knowledge acquired through developing the app in general, and in using Instant Developer Cloud in particular;
–      the existence of basic functionalities that are already ready;
–      the option to reuse databases that have already been developed, with just a few adjustments depending on the specifics of each project;
the estimated development times for upcoming projects will be slashed by at least 30%.
Results
30%
estimated savings in developing new apps
2
internal resources trained in using Instant Developer Cloud
✓
App available for high-end Vimac Security products
✓
Development of databases that can be reused for new projects
✓
Development of basic utilities that can be reused for new projects
We've used the Instant Developer platforms since 2009. When we're happy working with someone, we like to continue.
Mario Muzzin, President of SoftSystem S.r.l.
SoftSystem is a company that designs and builds customized management software for small and medium businesses and manufacturers.
It has been on the market since 1988: over thirty years. It works in software development, E2000, systems and web application consulting, consistently focusing its work on satisfying the needs of its customers and building long-lasting relationships with them.
For over ten years it has chosen Instant Developer as its development platform, using both Foundation and, beginning with the Leonardo project, the Cloud platform as well.