Success Story
Partnerlab: developing with a multichannel approach using Instant Developer Cloud to expand functionality and grow sales
Partnerlab chooses Instant Developer Cloud to develop a new platform for an important client with a mobile-first perspective, with excellent results.

The Project
Miniconf Spa is a leading children's clothing company. It owns the brands Sarabanda, Minibanda, iDO, and Dodipetto, and sells around the world.
In order to manage its range of clients (shops, agents, and distributors), it commissioned InitZero to create a specific platform, Partnerlab, which was developed using Instant Developer Foundation.
Over time, they noticed that customer habits were changing: they needed a platform developed with a mobile-first approach, even at the risk of sacrificing the user experience of people who continue to connect via desktop.
The use of smartphones also demands maximum efficiency in integrating new connected functionalities, such as reading bar codes and QR codes.
After a thorough analysis of the possible alternatives, they decided to proceed with Instant Developer Cloud for their new platform.
Development Data
8
total months of development
40
man/days for developing the first delivery
50
man/days saved thanks to the Instant Developer Foundation integration functionalities
50%
savings thanks to the use of the platform that integrates mobile and web
1
man/days to integrate the remote support functionality into the application, saving on third-party software license costs
We used Instant Developer Cloud to develop with a mobile-first approach, thereby avoiding the production costs of two platforms and creating a system ready for the subsequent transition to an app.
Massimiliano Sorcinelli, Founder of InitZero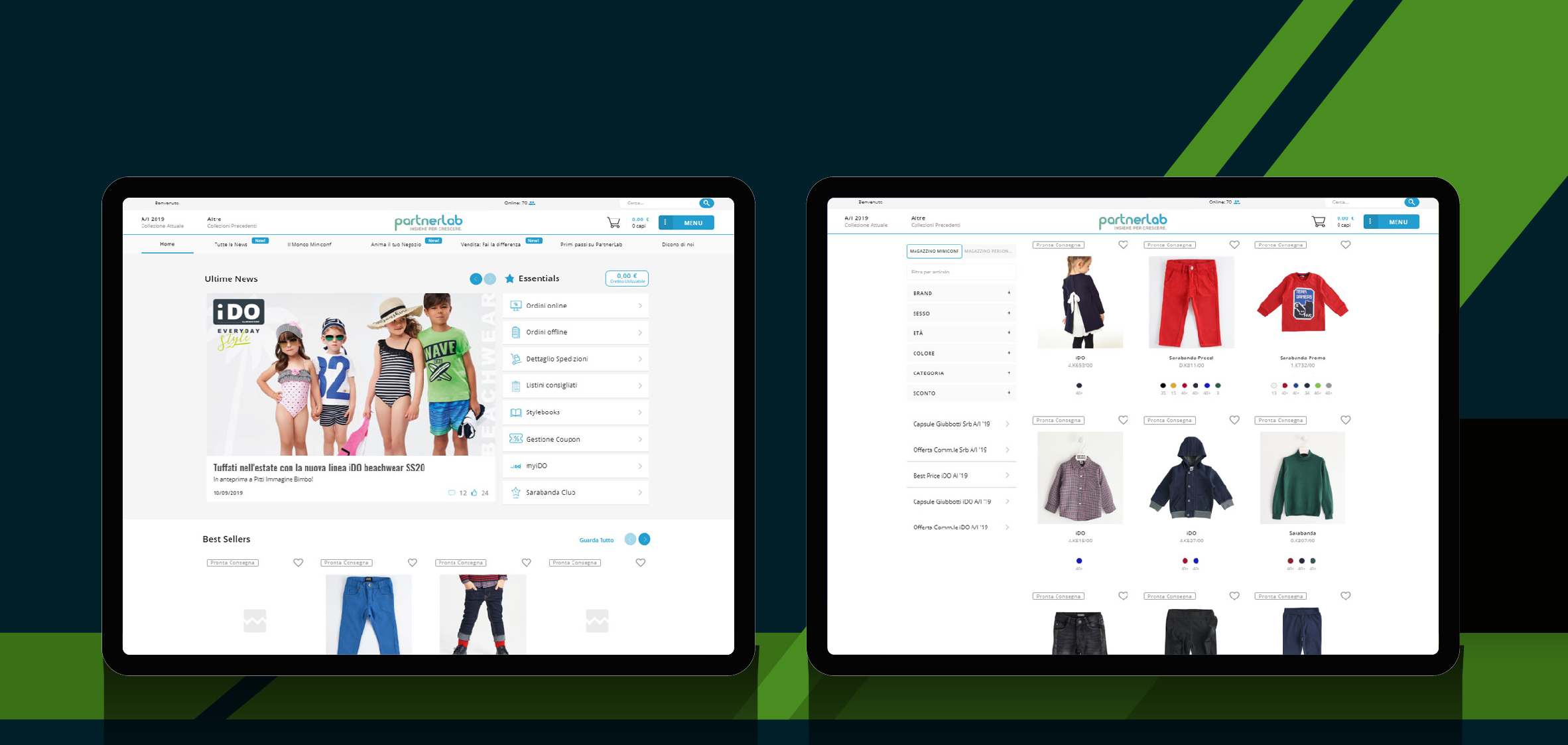 Thanks to an eight-person team, the new Partnerlab platform was created in eight months total. Total work time can be estimated as follows:
100 hours of analysis;
300 hours of UI and UX design;
600 hours of front-end development;
200 hours of back-end development and system integration.
Components used:
Framework: Ionic (integrated into Instant Developer Cloud)
HTML5 Barcode Reader: QuaggaJS
HTML5 QRCode Reader: Instascan
Remote Support: Instant Developer WebRTC
The new system relies on previous architecture built with Instant Developer Foundation, which was translated into API services transferred to the Instant Developer Cloud application. Eighteen million records will be synchronized in real time.
The final result was a complete hub that integrates the various functions as well as managing the new ranges. It's the channel for all company communications and helps educate shopkeepers through advice on sales, window dressings, and various types of materials (which previously was delivered using WeTransfer).
It's the hub that allows them to manage promotions and special initiatives, provides advanced statistics on the sales of various items, and allows them to provide real-time support, integrating WebRTC technology.
Differently from the previous version, which used different portals for each country, here we have a single environment able to handle various languages, currencies, taxes, and the other variables that change from one country to the next.
Having Instant Developer Cloud at our disposal was crucial in being able to quickly and efficiently integrate smartphone hardware functionalities.
Massimiliano Sorcinelli, Founder of InitZero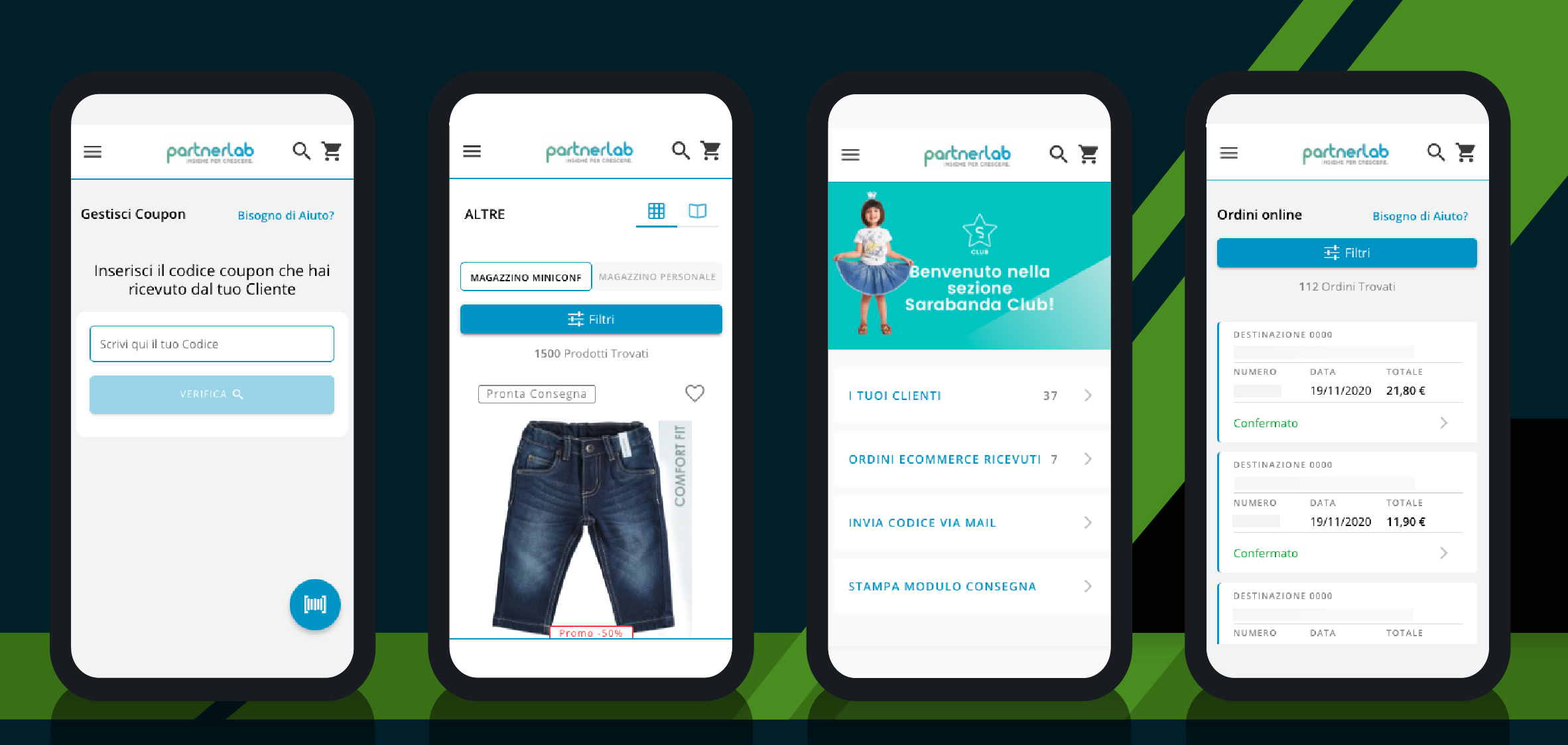 The new portal, developed with a mobile-first approach, was enormously successful with Miniconf's clientele. Users increased and there was a 200% uptick in visits.
Communications, much more efficient and contextualized, led to a significant increase in purchases on the platform, and impulse purchases in particular.
Partnerlab is also the most effective tool for educating shopkeepers on selling Miniconf products.
Development and improvement work continued over time. Planned next steps include publishing the app and integration of a chatbot.
Results
6,000,000
Euro/year in transactions
25%
accesses via mobile (over the previous 3%)
+50%
more sales and +200% more visits
We are some of the earliest customers to use Instant Developer Cloud, when it had just come to market and was still an immature product in a few ways. But we were already familiar with Instant Developer Foundation and we believed in the platform's potential. And in fact, it matured very rapidly, and today we are completely satisfied with it.
Massimiliano Sorcinelli, Founder of InitZero
InitZero srl is a software house from Arezzo, Italy, in business since 2004. In 2016, along with the communications agency Atipico srl, it formed Quantico srl. This new company can execute complex projects bringing to bear the utmost skill in both strictly technical areas as well as communications.
So Quantico handles complicated projects that may involve rebranding, digital identity, app and business software development, e-commerce and omnichannel strategies, and more.
Our clients include industrial organizations like Lucart, important national chain stores like Euronics, and fashion and jewelry stores (one of many is Unoaerre).
The project for the new Partnerlab portal is an excellent example of how technical execution and marketing strategies can be used in conjunction to enable a forward leap in quality in the company.