Success Story
Nutribook by DeaSoft: when expertise is the goal
When developing Nutribook, DeaSoft was aiming for a goal much loftier than revenue. That's why using the most suitable development platform was even more important.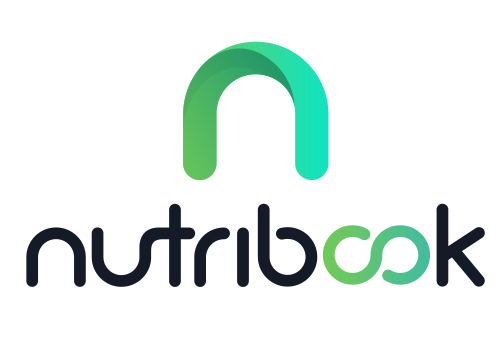 The Project
The value of expertise is absolutely vital, as every entrepreneur knows. Even more so if the company's business is an advanced service like software development.
While redefining its market strategies, DeaSoft realized that the moment had come to look deeper into the development of web and mobile apps and take its skills in this arena to the next level, taking on different programming languages. With such a strategic product, they wanted to underline the superior professionalism that they've always offered their customers. Most importantly, they were ready to invest the necessary time and resources.
The best approach is to put yourself to the test and develop an app with advanced, original functionalities. Thanks to a winning combination of outside tips and previous expertise, they knew that the market was lacking an app for dieticians and nutritional biologists with the features they had in mind.
The challenge seemed perfect, and DeaSoft decided to seize it: soon Nutribook would be born.
Development Data
6
man months from the initial idea through to publication on the Apple and Android stores
18
man months to complete all functionalities, including the training period in using the development platform
+50%
time saved with respect to expectations
600+
interviews with possible users to draft the initial project
40+
test users to improve the product
The Instant Developer tools offered a better fit than many other frameworks or applications. When it was time to decide how to invest to acquire this kind of knowledge, the truth is we were already sure of our choice.
Paolo Manzoni, CEO at DeaSoft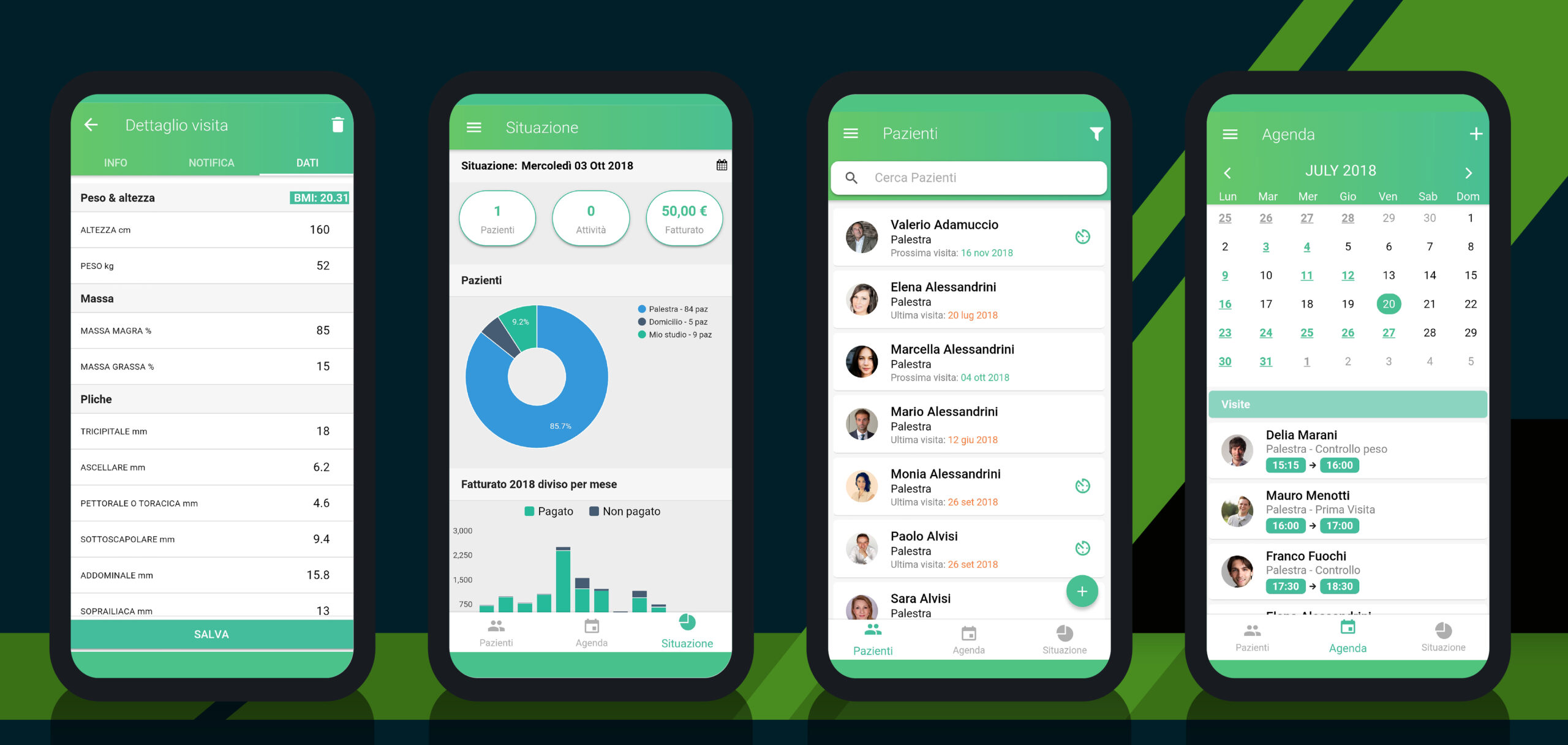 How did Nutribook come about?
The best ideas often come to us during relaxing moments. The one for an app for nutrition professionals popped into the head of Paolo Manzoni, CEO of DeaSoft, during the Christmas period. His idea was a hit with his colleagues as well, so in January they started to build it, step by step.
In planning Nutribook, they first turned to future users of the app, reaching them through themed Facebook groups and associations in the sector, offering them a questionnaire to tease out what was needed.
The response was extraordinary, and in fewer than 24 hours 600 questionnaires were collected, zipping along the grapevine.
An intense period of work brought DeaSoft to present the app prototype – the alpha version – in April. The next version, the beta, was published on the Android and Apple stores after just three months, on July 1st.
This is incredible speed, just half the time (or even less!) than the company anticipated. This is due in part to the structural characteristics of the development platform they chose, and in part to an additional booster: a support package that proved particularly useful.
Over the course of two months, an Instant Developer specialist supported the DeaSoft engineers step by step, ready to clear up any uncertainties and demonstrate the best ways to use the functionalities of the framework, working as a team to solve technical problems.
Even after the initial publication on the stores, work on Nutribook continued for quite some time, as always happens with apps: it needed adjustments based on user feedback, new functionalities… everything that might be needed to improve the app or to give DeaSoft a way to test new programming objects.
No option was left untested if it offered a chance to learn how to manage increasingly broad functionalities.
Expectations regarding development times had a big influence on our choice of tool. Knowing Instant Developer's approach, I was sure that there were tools, mechanisms, and paradigms that could accelerate planning and development.
Paolo Manzoni, CEO DeaSoft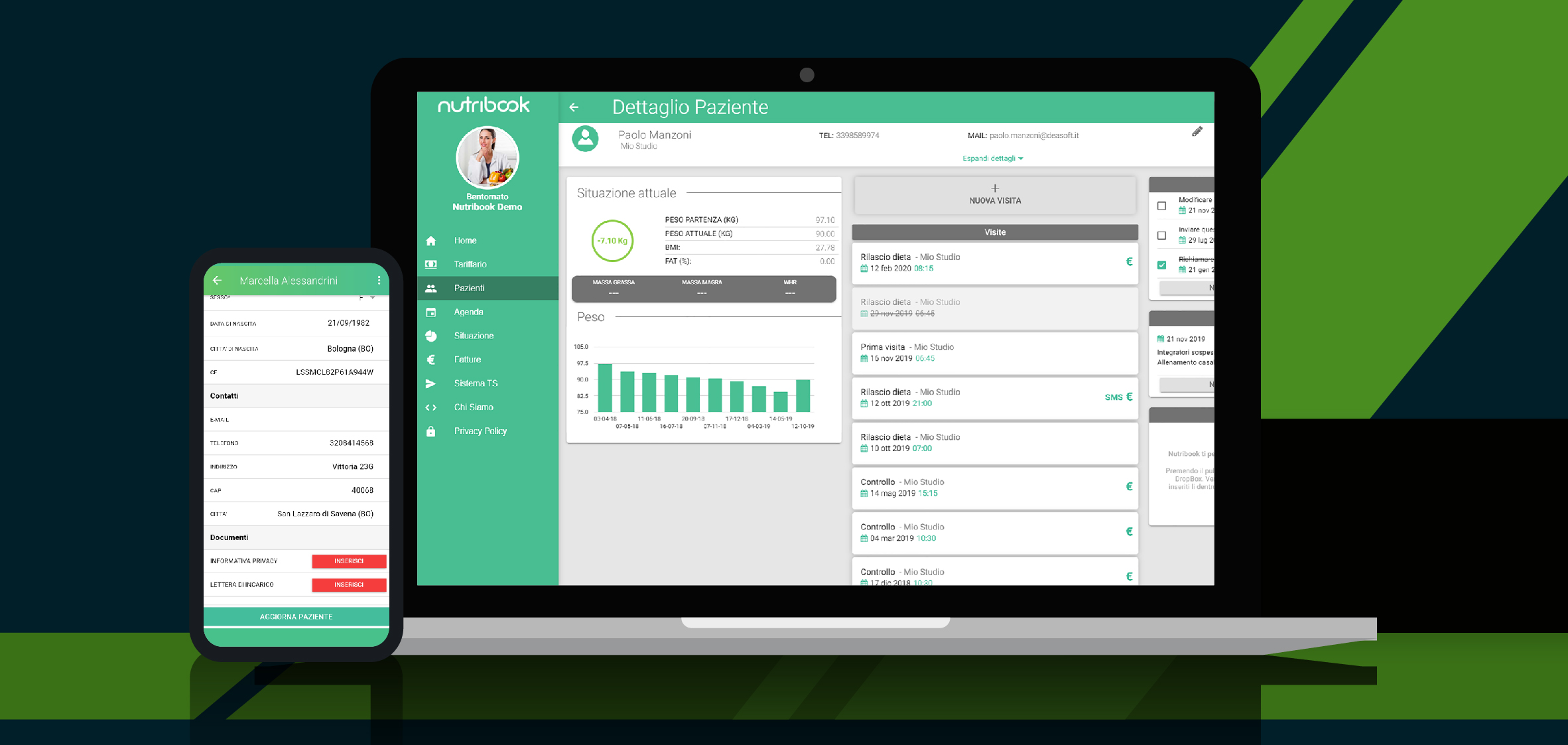 The Nutribook app is still distributed free today, but has a few advanced paid functionalities. It immediately garnered enthusiastic responses from dieticians and nutritional biologists. On the strength of its completeness and specialization, and with practically zero competition, it quickly gained success in a small but clearly defined market.
According to a recent estimate, approximately 10% of professionals in the sector in Italy have installed it.
The principal purpose that DeaSoft aimed to achieve however, was something else: gaining advanced skills in designing mobile apps.
Also from this point of view, Nutribook was undoubtedly a challenge won. After Nutribook, DeaSoft found new business opportunities. Even just the apps commissioned by old clients were sufficient to recoup their investment and ensure future earnings.
The results far exceeded expectations, because the success of Nutribook translated into the best kind of publicity. Many people in the medical and healthcare field learned about DeaSoft and its expertise thanks to this app.
Within a year, at least 15 companies contacted them for this reason, leading to new projects and opportunities to collaborate.
In other words, Nutribook delivered positive results in terms of expertise, organization, image, and market possibilities.
All this with a production and development timeline that was decidedly shorter than expected.
This was indisputably to the credit of the excellent skills of DeaSoft's team, but also thanks to the tools and support that Instant Developer provided to them.
Results
2,600
professionals registered (nearly 18% of those working throughout Italy)
32,000
total patients managed
6
new apps commissioned by DeaSoft clients
15
new prospects qualified in one year
For a software house, in the event of problems knowing that someone will be there to respond and actually help you solve them makes all the difference.
Paolo Manzoni, CEO DeaSoft
DeaSoft is a software house founded in Bologna in 2013.
It consists of a team of IT engineers able to offer cutting-edge technological solutions for companies.
It works predominantly in the B2B market, specializing in medicine and healthcare.
Its portfolio boasts software for small businesses, franchises, specialized apps for the medical sector, and management platforms for medical procedures.
Since the beginning, DeaSoft has chosen to optimize its development times and the quality of its results by relying on the Instant Developer platforms. Over the years, the two teams have often worked in close contact, developing a harmony and team spirit that enabled both companies to contribute the very best of their potential.